Fantine & Desiree
Let the French Girl love commence!
Pattern: Fantine by French Girl
Yarn: Big Wool Fusion #5 Tapestry
Needles: Addi Turbo #17 32"
Comments: I am so happy with this pattern. I love that it is done totally seamless. It took me two days to knit! I really like the twisted stitch detail on the edges, collar, and hem. As an added bonus, this pattern has several variations to choose from. You can do it in either the rounded collar or a Mandarin collar. You can also choose between cap or 3/4 sleeves. The sweater only took three balls of Big Wool, so the cost isn't too bad either!
OK, I know this isn't a picture of me, but the one I took does not come close to doing this sweater justice. You will just have to imagine me in it.
Pattern: Desiree by French Girl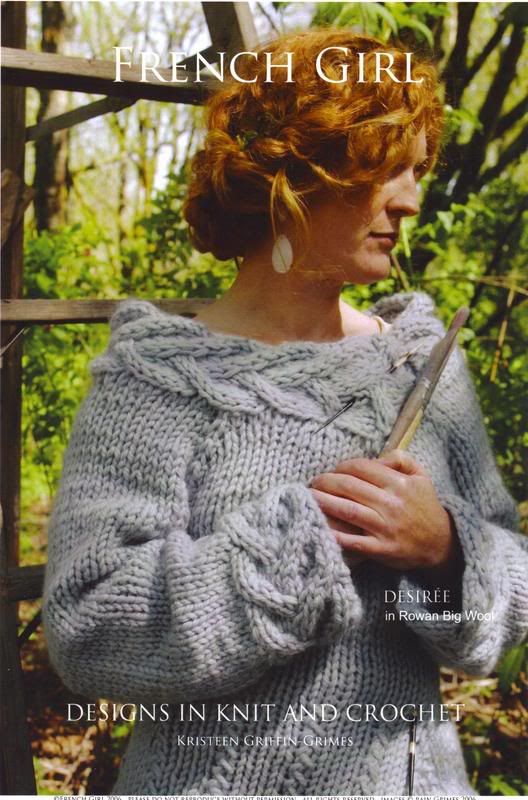 Yarn: Rowan Big Wool #37 Zing (a grass green color)
Needle: Addi Turbo #17 32"
Comments: This is the first pattern that I test knit for Kristeen (aka the French Girl), so I've actually been done with her for quite a while. My name is even on the pattern! I'm so proud!
Again, I love this sweater. The collar and cuff details are beautiful. I thing the faux darts at the bottom of the sweater are so attractive as well (see the picture of the back below). I don't think I've ever seen them on a sweater before. Another winner from Kristeen.