Easy V-Neck Sweater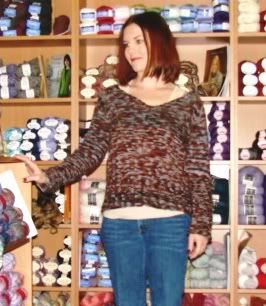 Pattern:
Easy V-Neck Sweater by Stefanie Japel
Yarn:
Malabrigo in the Charrua (dark brown, light blue, rust) colorway (the softest merino EVER!)
I don't know why this picture looks so weird. My dad let me borrow his camera, and I suppose I haven't figured out how to work it properly.
I am using this sweater to teach our Sweater Phobia class at the shop. We have so many talented customers who have all of the skill sets needed to knit this, but just need a little push. This sweater is done totally in the round without seaming, so it should be a snap for even the novice knitter.
I am so excited to be along for the ride with my students. When I knit my first sweater,
Tempting
from
Knitty
, I was hooked. I haven't looked back since. I hope my students will have the same experience.